Your Leading Rigid-Flex PCB Supplier
Rigid-flex PCBs are boards that combine the best of flexible and rigid-board technology.
Designs vary greatly and can be combined with a wide range of materials to support multiple use cases in a constant state of flex — often a flexed curve created during the manufacturing process or made during final installation.
Why You Need Rigid Flexible Circuits From MCL
These PCBs create a more challenging design for rigid-flex manufacturers, but we've been able to supply successful designs with full compliance and reliability. By engineering these in a 3D environment, we're able to achieve spatial efficiency and incorporate folds and flexes to help you meet the desired shape that works best with your application.
A rigid-flex printed circuit board can help you with issues in reducing space, as well as making sure your products can stand up to tough conditions and ensuring they are cost-efficient. A rigid-flexible format allows you to use fewer parts and interconnections and take on more aggressive design challenges, as the rigid-flex PCB is a flexible solution to numerous design issues.
Applications for industries range from hearing aids to night vision goggles and more.
---
Capabilities
At MCL, we work hard to get your rigid-flex PCBs to you quickly, provide the quantities you need and meet your required specifications. We also pride ourselves on providing advanced options for your boards. For instance, we offer panelization optimization, which arranges your rigid-flex boards into large multi-unit panels you can easily break apart for use, and shielding, which minimizes electromagnetic interference. We can also use pressure-sensitive adhesives (PSAs) to secure sections of a PCB in place without using soldering.
Below are several of the PCB capabilities MCL offers:
Quick Turn
Prototype Quantities
Production Quantities
2 – 44 Layers
35:1 Drill Aspect Ratio
Maximum Panel Size – 24″ x 30″
Blind / Buried Vias and Micro Vias
Via In Pad with Fill Options (Conductive, Non-Conductive, Copper Plug)
High Copper Thickness
Panelization
Shielding
Pressure Sensitive Adhesives (PSAs)
Air Gap Stackup
Specs and Tolerances
| | |
| --- | --- |
| Outer Layer Trace / Space | .002″ / .002″ |
| Inner Layer Trace / Space | .002′ / .002′ |
| Minimum Drilled Hole | .002″ |
| Standard Drilled Hole | .008″ |
| Drill Aspect Ratio | 35:1 |
| Minimum Pad Size | .004″ |
| Minimum Feature to Edge | .010″ |
| Minimum Core Thickness | .001″ |
| Controlled Depth Drilling | YES |
| Sequential Lamination | YES | What Is the Difference Between Flex PCBs and Rigid-Flex Printed Circuit Boards?
The rigid-flex printed circuit board gives you the best of both worlds. A rigid-flex PCB combines the flexibility of flex circuits with the durability of a rigid PCB. A flex-printed circuit board has only flexible materials, usually polyimide or polyester-based. They can be single-layer, double-layer or multilayer boards. A rigid-flexible PCB has both flexible and rigid materials, with flexible layers sandwiched in between rigid layers with conductors and plated through holes that connect them to the other layers.
Flexible circuit boards by themselves may not stand up to the wear of certain challenging applications, but standard rigid boards tend to be heavy and take up a lot of space. Combining rigid boards with flexible circuits reduces weight and space, giving you a streamlined product you can use in a wide variety of industrial situations.
Layout Recommendations for Rigid-Flex PCBs
Rigid-flex PCB suppliers like MCL provide guidance on layouts and bends to keep your equipment safe. We wanted to present a quick overview to help you understand the thickness and other requirements you may need for your design.
| | |
| --- | --- |
| Circuit Construction | Bend Radius Calculation |
| 1 Layer (single-sided) | Flex Thickness x 6 |
| 2 Layer (double-sided) | Flex Thickness x 12 |
| Multi-Layer | Flex Thickness x 24 |
Other design tips include:
Avoid 90˚ bends whenever possible.
Gradual bends are always safer.
Bend radius is measured from the inside of the bend.
Conductors running through a bend need to be perpendicular to the bend.
Use curved traces instead of traces with corners.
Traces should be perpendicular to your bend. Get a Free Rigid-Flex PCB Quote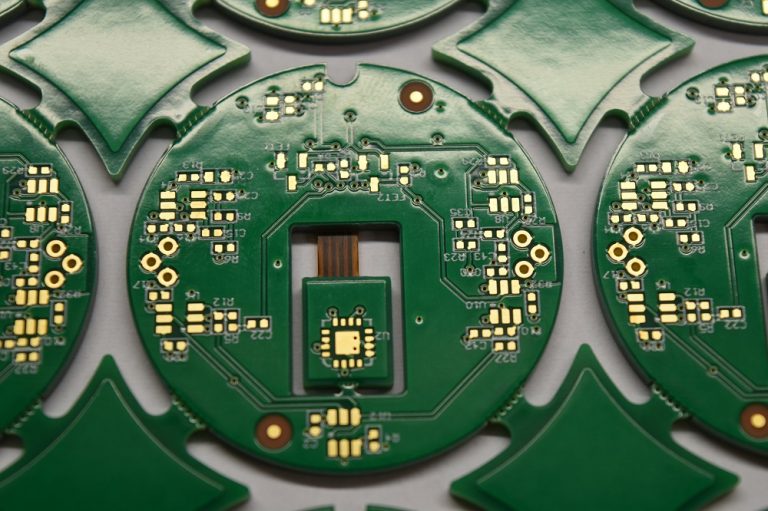 Rigid-Flex Materials
Your specific rigid-flex printed circuit board will be a custom design and production. However, to get you started thinking about what to consider, we wanted to share with you just a small selection of the materials that can be used for your project. Our consulting services, knowledge and capability make us one of the leading rigid-flex PCB suppliers the United States has to offer.
The right materials are crucial when it comes to a rigid-flex printed circuit board or any printed circuit board for that matter. PCBs with substandard materials can fail at crucial times, break, catch fire, cause dangerous sparks or otherwise compromise your operation.
MCL uses only the best materials for each rigid-flex PCB to make sure you get the desired results with respect to signal transmission, thermal conductivity and safety.
Primary Materials
Below are some of the primary materials we use to give our rigid-flex circuit boards superior quality and performance:
Standard FR-4 materials
Lead-free compatible FR-4 materials
High-speed digital materials
RF and microwave-compatible material
Metal-core (i.e. aluminum) materials with high thermal conductivity
Polyimide
Coverlays, covercoats and flexible solder masks
DuPont, Panasonic, Shengyi, ThinFlex, and others
Finishes
A PCB usually receives finishing after the solder mask process. The finish protects the copper pads from contaminants to prevent corrosion and oxidation.
The choice of finish will depend on the composition of the board and the intended application. At MCL, we are happy to consult with you to determine the best finish for your PCBs needs.
We offer various PCB finishing types, including the following:
ENIG (this is the primary finish used for rigid flex applications)
Hard gold fingers
Immersion silver
Immersion tin
Wire-bondable electrolytic gold Insulators
The insulators on a PCB isolate the conductive layers and elements to control temperature and prevent unwanted electrical conduction. They combine flexible substrates and coverlay materials to create various thicknesses and form factors. A board needs a suitable insulator to complement the conductor — the wrong insulator can lead to poor PCB performance and eventual failure.
Some common insulators include the following:
FR-4
Polyimide
Polyester
Polyethylene naphthalate (PEN)
Polyethylene terephthalate (PET)
Solder masks
Flexible solder masks
Photo-imageable coverlay (PIC)
Screen-printed dielectrics
Conductors
In PCBs, copper is the most frequently used conductor. Copper is an ideal choice for PCBs because it is a highly conductive material, so it easily transmits signals without losing electricity. Copper also exhibits high malleability and ductility, so it is easy to shape into thin PCB layers, thin wires, and other small components.
Common types of copper used in PCBs include the following:
Electrodeposited (ED) copper
Rolled annealed (RA) copper (primarily used for rigid-flex applications)
The base copper in our PCBs is generally a thin copper foil plus plated copper. We offer finished board copper in the following ounce-per-square-foot amounts, where each ounce creates a thickness of at least 0.0007 to 0.0014 inches:
1 oz.
1.5 oz.
2.0 oz.
3.0 oz. plus
Adhesives
The adhesives act as a dielectric and also adheres the copper layers of each PCB securely in place without interfering with the board's operation. Common adhesives for rigid-flex circuits include the following:
Epoxy
Acrylic
Pre-preg
PSAs
Adhesive-free base materials
The choice of adhesive will depend on the conductor thickness and the requirements of the specific application. Applications
MCL has served customers across almost all major industries for more than 15 years. We've seen rigid-flex printed circuit boards put into use in a variety of scenarios and have happy customers who are leading the way in today's key modern industries:
Consumer electronics
Contract manufacturing
High-speed digital development
Instrumentation
LEDs and lighting
Power electronics
RF and microwave equipment
And other industrial applications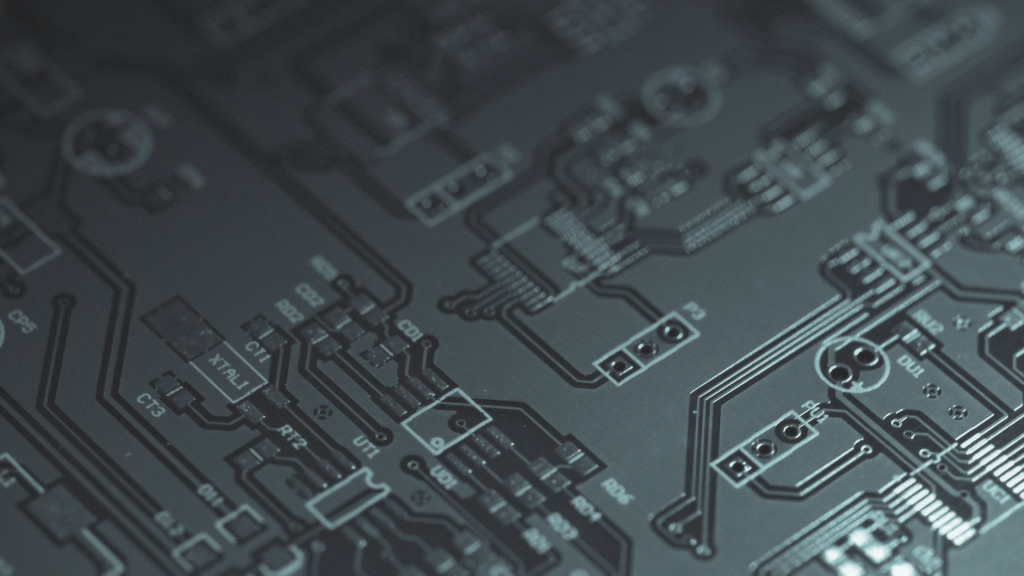 You Can Trust MCL
At MCL, we pride ourselves on delivering some of the best rigid-flexible printed circuit boards on the market. We want to show you exactly what we can do for your PCBs from development to engineering and prototyping to large-volume orders.
Save yourself time and safeguard your budget when you contact MCL today to discuss your upcoming project. As a member of the MCL family, you'll experience, rapid quote response, flexible lead times, technical support, and price-to-value for rigid-flex solutions when you contact us online or call us at 717-558-5975.