What Is an Aluminum PCB
Every rigid and flexible printed circuit board (PCB) design is different, customized to meet the board's purpose. The same is true for the PCB base material — fiberglass is a popular base material, but aluminum-based PCBs are also very effective in many industry applications. Aluminum PCBs consist of a metal-based, copper-covered laminate that delivers high performance, including superior electrical insulation and thermal conductivity.
Aluminum printed circuit boards are also known as metal base PCBs and are comprised of metal-based laminates covered by a copper foil layer. They are made of alloy plates that are a combination of aluminum, magnesium and silumin (Al-Mg-Si). Aluminum PCBs deliver excellent electrical insulation, good thermal potential and high machining performance, and they differ from other PCBs in several important ways.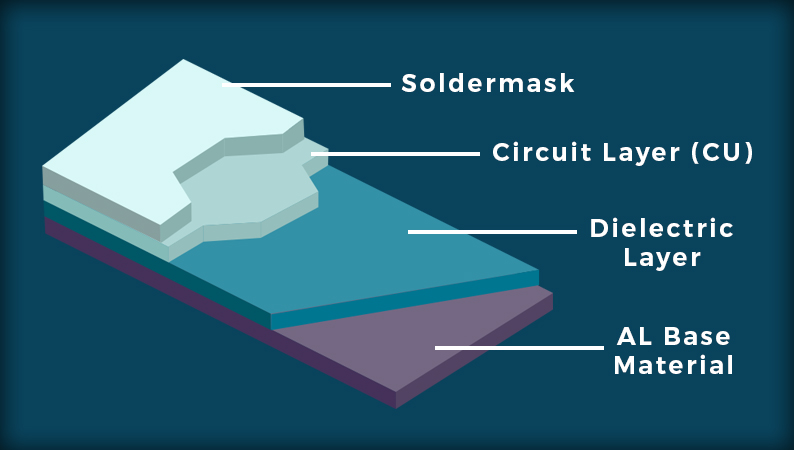 The aluminum base layer
This layer consists of an aluminum alloy substrate. The use of aluminum makes this type of PCB an excellent choice for through-hole technology, discussed later.
The thermal insulation layer
This layer is a critically important component of the PCB. It contains a ceramic polymer that has excellent viscoelastic properties, great thermal resistance and defends the PCB against mechanical and thermal stresses.
The copper foil layer
The circuit layer contains the copper foil mentioned previously. Generally, PCB manufacturers use a copper foil layer ranging from one to 10 ounces.
The dielectric layer
The dielectric layer of insulation absorbs heat as current flows through the circuits. This is transferred to the aluminum layer, where the heat is dispersed.
Achieving the highest light output possible results in increased heat. PCBs with improved thermal resistance extend the life of your finished product. A qualified manufacturer will provide you with superior protection, heat tolerance and part reliability. At MCL, we hold ourselves to the exceptionally high standards and quality your projects require. Front of an Aluminum PCB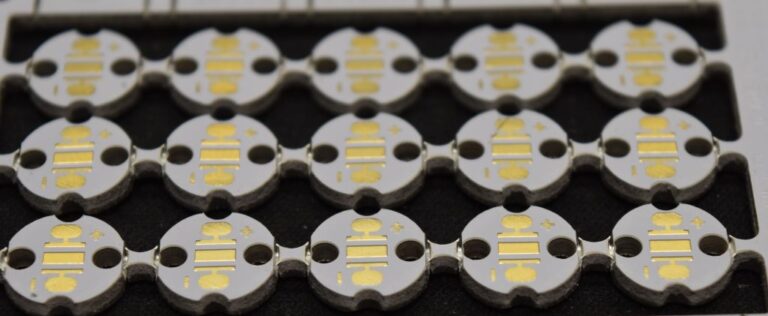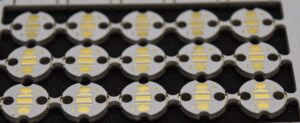 Back of an Aluminum PCB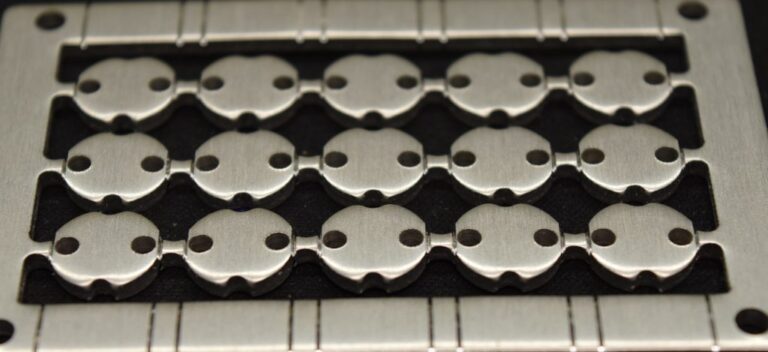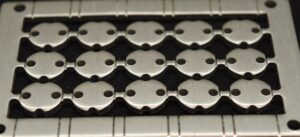 Get a Free Aluminum PCB Quote.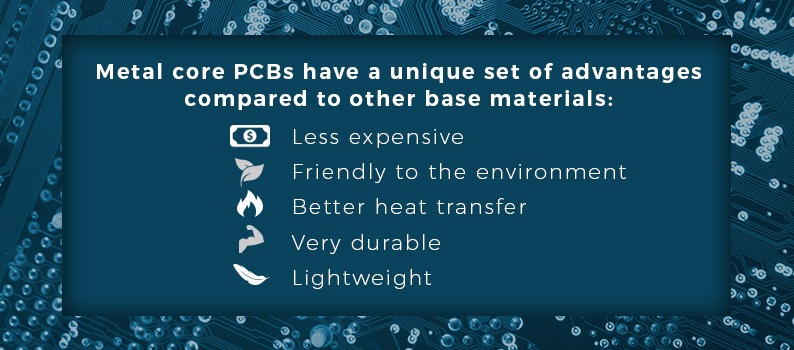 Advantage of Using an Aluminum PCB
Below are a few advantages of using aluminum PCBs:
1. Less expensive
Aluminum is indigenous to a variety of climates, so it's easy to mine and refine. That makes it significantly less expensive to mine and refine than other metals. By extension, the manufacturing costs associated with products using aluminum PCBs are also less expensive. Aluminum PCBs are also a less expensive alternative to heat sinks.
2. Friendly to the environment
Aluminum is a non-toxic, recyclable metal. From the aluminum PCB manufacturer through to the end consumer, using aluminum in PCBs contributes to a healthy planet.
3. Better heat transfer
High temperatures are the cause of heavy damage to electronics. Aluminum conducts and transfers heat away from critical parts to minimize damage to the printed circuit board.
4. Very durable
Aluminum is stronger and more durable than base materials like ceramic and fiberglass. It is very sturdy and reduces accidental breakages that can occur throughout the PCB manufacturing process, and during handling and everyday use.
5. Lightweight
Considering its durability, an aluminum PCB is very lightweight. This adds strength and resilience to the board without adding additional weight.
We like our clients to be as informed as they can about the different types of products we offer at MCL. Even though power converters and lighting projects are the largest users of metal-based PCBs, there are many different uses.
LED PCBs make up the majority of metal-based circuit boards, and they may benefit from the advantages of aluminum-core PCB material. Every aluminum-core PCB supplier should help its customers assess their needs for thermal control and insulation.
Aluminum-core PCBs are typically used with white or black solder masks, and MCL has a specific white mask for LED lighting applications. Aluminum PCB Applications
Aluminum-backed PCBs are ideal for situations when thermal heat tolerance and dissipation requirements are very high. PCBs clad with aluminum are more effective at directing thermal energy away from printed circuit board components; therefore, they provide better temperature management for PCB designs.
Aluminum-backed designs can be as much as 10 times more efficient than fiberglass-backed designs when it comes to removing thermal energy from circuit board components. The much higher thermal dissipation rate allows higher power and higher density designs to be implemented.
Aluminum-backed PCBs are used more than ever for applications of high power and high thermal heat dissipation.  Although they were originally designed for high power switching supply applications, aluminum-backed printed circuit boards have gained popularity in LED applications, including traffic lights, automotive lighting and general lighting.
The use of aluminum designs allows the density of LEDs in the PCB design to be higher and for the mounted LEDs to operate at higher currents while staying within specified temperature tolerances.
PCB Safety Margins
Aluminum-backed PCBs also allow for decreased safety margins with power LEDs compared to conventional PCB designs. The lower operating temperature of the LEDs in design means the LEDs can operate for longer periods of time before they fail.
Other applications for an aluminum PCB include power supplies, high-current circuitry, motor controllers and automotive applications. Aluminum core PCB materials are very effective in thermal heat dissipation applications that involve high-power surface-mount integrated circuits. Because of the high level of thermal dissipation associated with aluminum-backed PCBs, circuit board designs can be simplified. An aluminum PCB eliminates forced air and heat sinking, which ultimately lowers the design cost.
Just about any design that can be made better by improving thermal conductivity and temperature control is a candidate for an aluminum-backed PCB.
Storage Conditions
Be sure to store an aluminum PCB in a dry, dark place. If stored in humid or light-filled conditions, these types of boards can absorb moisture and yellow or blacken. You should also use your PCBs no more than 48 hours after you open their vacuum packaging.
MCL's Aluminum PCB Solutions
At MCL, we have committed ourselves to enhanced capabilities that give you the high-quality PCBs you need for your projects. Here are some of the capabilities and services we offer.
PCB Engineering Solutions
Our engineering solutions include many capabilities designed to improve the quality of your finished PCBs, including the following:
Controlled impedance modeling: If your PCB solutions require controlled impedance, modeling is crucial for ensuring OEM-quality boards that can operate between 100 MHz and 3 GHz. MCL can also help you tailor signal reflections to boost overall signal integrity.
Design rule checks (DRCs): In designing your PCBs, you need a way to make sure your chip layout meets the necessary parameters and design rules. With our sophisticated DRC software, we can make sure you've optimized your layout and can maximize the available board space.
Design for manufacturability (DFM): At MCL, we also promote PCB designs that optimize manufacturing processes at every stage — fabrication, assembly, testing, delivery and support. We can work with you on designs that support manufacturing best practices to ensure superior PCB quality.
File conversions: In some cases, you may have old CAD-generated DFX or DWG files that require conversion to more sophisticated Gerber files. MCL services can swiftly convert DWX and DWG files to streamline the design process and expedite your PCB delivery.
Surface Finishes
The surface finish on your boards is critical because it protects your PCBs from the elements and prevents corrosion. Choosing the right finish for your boards is essential for safety and performance. Your selection will depend on the composition of your boards and their components.
MCL offers various surface finishes for PCBs, including the following:
Immersion gold
Immersion silver
Immersion tin
Hot air soldering level (HASL)
Lead-free HASL
Organic solderability preservative (OSP)
Hard gold
Electroless-nickel electroless-palladium immersion gold (ENEPIG)
Edge Plating
PCB edge plating is beneficial because it ensures a strong electrical connection throughout the board and reduces the likelihood of equipment failures. Edge plating during fabrication requires careful handling so that the copper plating will last for the board's entire lifetime.

At MCL, we can supply you with superior edge-plated boards for your PCB applications. We also perform all the necessary checks on edge plating to ensure safety and outstanding performance.
Layer Stacking
Layer stacking allows for the inclusion of multiple PCBs in the same electronic device by stacking the boards on top of one another.
MCL can supply your business with multilayer aluminum boards to help you increase speed and functionality in your electronic applications. These boards will have at least three conductive layers and potentially many more. We are happy to consult with you about the right stacking for your multilayer aluminum PCBs.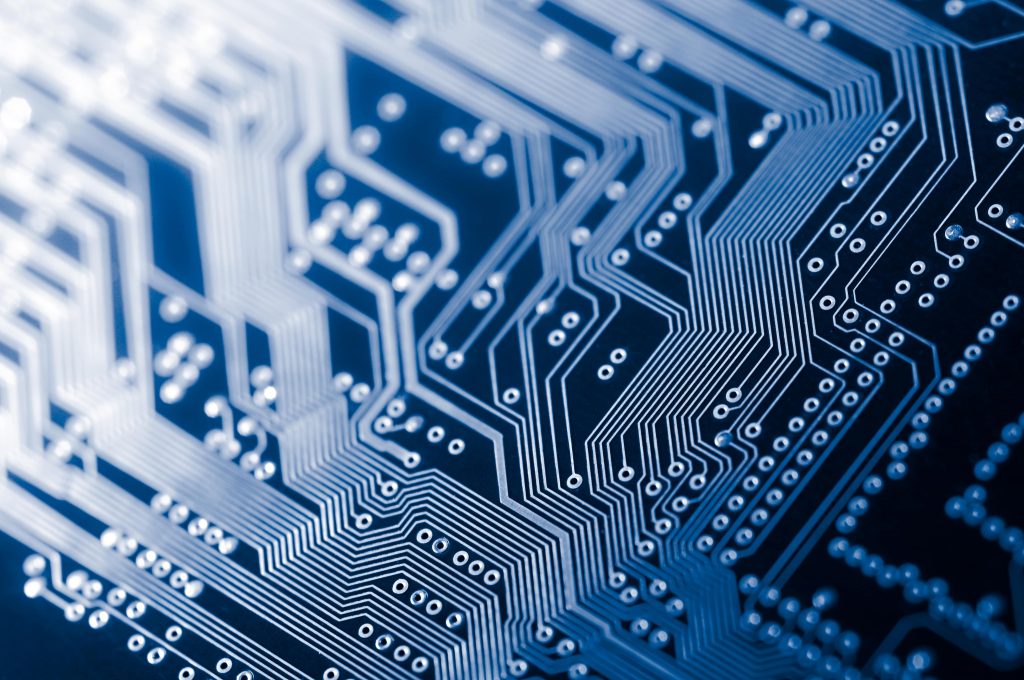 Get an Aluminum PCB From MCL
Millennium Circuits Limited delivers state-of-the-art printed circuit board technology and is a leading supplier of aluminum-core PCBs. We use cutting-edge technology to provide precision-manufactured PCBs that meet our customers' rigorous specifications.
MCL can provide you with quality aluminum circuit boards for your applications. Contact us today to discuss your PCB requirements.