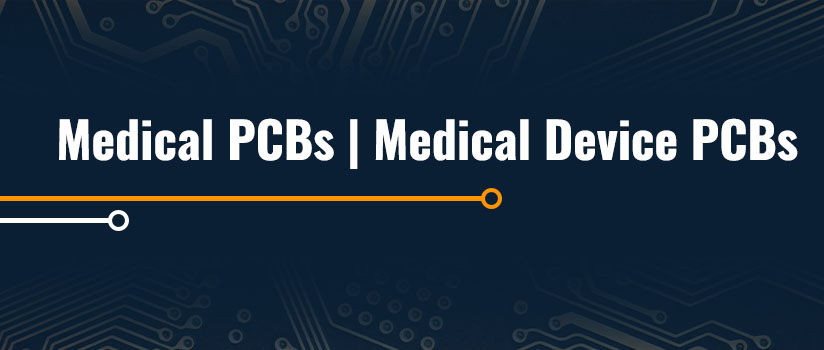 Millennium Circuits Limited (MCL) has been supplying custom printed circuit boards (PCBs) for medical devices for more than 15 years, and we've consistently ensured every board meets the highest quality standards for the medical community. Our quality assurance standards include various requirements around specialty materials, cleanliness, stringent processes, and support for a host of product types.
Printed circuit boards for medical devices are designed specifically for your medical instrumentation needs and a wide range of care settings, lab settings and testing scenarios. Precision is the core focus of medical instrumentation PCB fabrication from MCL, and our customers are always pleased with our results.
If you're interested in PCBs for the medical industry, find out more about their main challenges and applications. Also, learn more about the core factors you'll need to consider when designing medical grade PCBs and how we can help you.
Challenges of Medical Industry PCBs
PCBs for the medical industry must meet a few different requirements to ensure they'll deliver the performance required. A few of the main challenges a PCB provider must be aware of when sourcing medical PCBs involve ensuring their PCBs meet compliance, size and reliability standards. Review some more information about the primary challenges PCB manufacturers must address with their PCBs below:
Compliance: One challenge for companies looking for medical devices is that they need to work with PCB manufacturers who can manufacture to Class 3 electronic requirements. Since medical devices and equipment fall under this class, a company with expertise in producing Class 3 electronics will be more likely to produce PCBs meeting compliance standards. PCB manufacturers must also keep detailed records, with lot tracking being especially important. Medical industry PCBs must also adhere to installation qualification, operation qualification and process qualification standards.
Size: Due to the trend of companies wanting smaller and smaller electronics, medical industry PCBs often have to have a miniature construction to fit in smaller medical devices. A good PCB provider will know how to properly craft tinier PCBs that still provide top-tier performance.
Reliability: Since medical equipment outfitted with PCBs is often used for lifesaving purposes, they need to be reliable. Medical devices and the PCBs in them are often exposed to extreme temperature, liquid and shocks. Due to this possible exposure, medical PCBs must be able to work in potentially dangerous environments and deliver reliable results.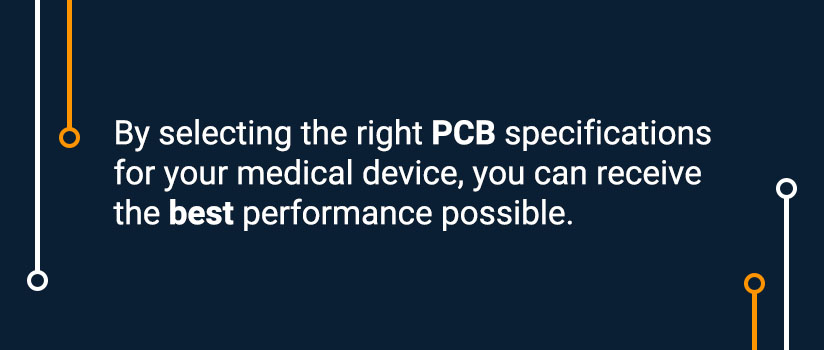 Factors to Consider When Designing Medical Grade PCBs
As you look for the right PCBs materials and specifications for your medical equipment and devices, you'll have many different options to consider. By selecting the right PCB specifications for your medical device, you can receive the best performance possible. Check out some of the main PCBs used in the medical field and some of the top factors that make particular PCBs a good choice for certain applications below: Our Capabilities
At MCL, we regularly help engineers and designers of medical instrumentation by providing complete medical device PCB fabrication and engineering support to bring your product to life. Our ability to generate high-frequency and high-density interconnect PCBs can be applied to medical devices.
Find out more about how our PCB capabilities can help you go from concept to market below:
Prototyping: When you have a new product or design revision, MCL can help by providing you with PCB prototypes to test the design and PCB prior to going into production.
Engineering support: Our team at MCL regularly provides engineering support services to customers, consulting with them to ensure PCB specs fit the budget and end application. Some of our top engineering solutions include Design Rule Check, Design for Manufacturability, cost consulting, stackup design, surface finish consulting and laminate and raw material considerations. All of these services mean we can help you craft PCBs to meet both your financial and quality needs.
Fabrication: Alongside helping our customers by giving them engineering solutions and prototypes, we can oversee the fabrication process. Since the PCB manufacturing process is complicated, we have long-standing, strategic partnerships with domestic and overseas PCB facilities capable of providing our customers with high-quality products at an affordable rate. Boards are always produced by a best-fit factory for the type of PCB, complexity, and technology involved.
Lifecycle: Once your PCB has gone through the engineering and fabrication processes, you can still expect MCL to help you once your PCB hits the market. Since we're committed to assisting you throughout your entire PCB's lifecycle, we'll be there for you after a sale if your has PCB any issues or needs analysis. We also put any PCB we sell through several quality assurance measures to minimize the risk of future PCB issues. MCL is able to manage customers revisions to the board so our customers don't have too. Medical PCB Applications
Due to the many types of PCBs, you can find them used in various applications in the medical industry. As you determine if you need PCBs, take a moment to review some of the top medical PCB applications below:
Diagnostic devices
Cochlear implants
Smartphones and tablets for mobile health applications
Imaging devices
2D and 3D sensors
Implanted defibrillators
Magnetic resonance imaging equipment
Dental equipment
X-ray computed tomography
Infusion fluid controls
Response neurostimulators
Blood glucose and pressure monitors
Monitoring devices
Digital X-ray equipment
Flex and rigid-flex interconnects for sensitive equipment
Ultrasound equipment
Flow rate and dispensing systems
Body temperature monitors
Imaging equipment
Electrical muscle stimulation equipment
Wearable medical devices
Ultra-HDI circuit boards and cables Choose MCL for Medical Device Printed Circuit Board Fabrication
MCL provides unprecedented service and flexibility for any medical device PCB. No order is too small to begin your concept prototyping or too large to help you bring it to market. We offer full engineering support to bring your medical device printed circuit board fabrication to life in the most cost-effective manner possible.
Contact us today to get a fast quote.